Haki 2 gets Honourable Mention from UNAOC
Haki 2: Chaguo Ni Lako was given Honourable Mention by The United Nations Alliance of Civilizations (UNAOC), the MIT Education Arcade, and Learning Games Network during their international competition for app and game developers to produce apps and mobile games that enable new avenues for intercultural dialogue, spanning a range of relevant topics and applications. http://www.unaoc.org/create/honorable-mentions/
The United Nations Alliance of Civilizations (UNAOC) is an initiative of the UN Secretary-General which aims to improve understanding and cooperative relations among nations and peoples across cultures and religions, and to help counter the forces that fuel polarization and extremism. It works at the grassroots level promoting innovative projects that build trust, reconciliation and mutual respect. Create UNAOC is a global competition co-organized by the United Nations Alliance of Civilizations, the Learning Games Network, and the MIT Education Arcade in search of mobile apps and games that can enable new avenues for intercultural dialogue.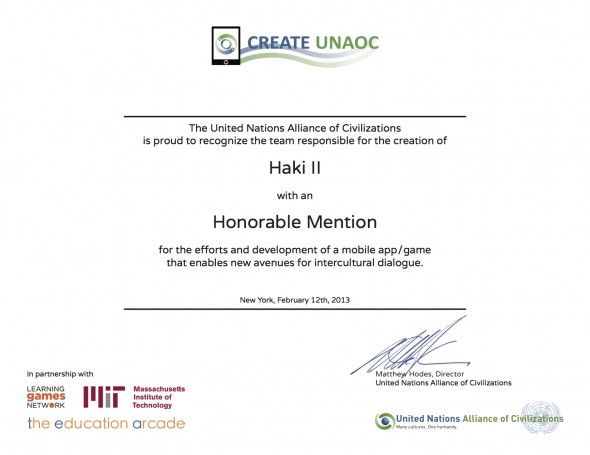 Haki 2 was designed by Afroes and the Tuvuke partnership to inspire players through critical information placed in a fun way, encouraging dialogue and contemplation about the contentious issues on forms of leadership; the rights and responsibilities of Kenyan citizen; access to and distribution of productive resources; and of livelihoods.
Haki 2 challenges the user to reflect on the choices they make and the consequences of such choices on peace in Kenya. The game, which is available on both Java and Android phones, is focused on ensuring that millions of young Kenyans (between 18 and 35) are encouraged to make a commitment to peace and tolerance and also raise their hands to the Tuvuke slogan NIMEJIANDIKISHA!